Welcome to a celebration of Naropa University's rich history and vibrant future! We are thrilled to unveil the installation of our Then-and-Now photo project, a fitting tribute as we approach our 50th year milestone. This project adorns the Wulsin building on our Arapahoe campus, offering a visual journey of  the past and present.
The lower section showcases black and white photographs of the pioneering faculty and luminaries who helped build the foundation for Naropa. In contrast, the upper section features vibrant color photos capturing contemporary moments that reflect Naropa's enduring mission. 
Photo courtesy of Naropa University Archives
Bobbie Louis Hawkins was an accomplished writer, poet and storyteller and Naropa faculty of the Jack Kerouac School of Disembodied Poetics from 1978-2010. She was known for her dynamic teaching style and her commitment to nurturing the creative growth of her students. Her presence in the Kerouac School, founded by fellow Beat poet Allen Ginsberg, Anne Waldman, and Diane diPrima, not only connected her to the Beat literary tradition but also allowed her to impart her unique insights and perspectives to aspiring writers. While teaching courses on writing, literature, and the exploration of language, she made a lasting impact on our university's ethos and the lives of countless students.
Her influence inspired a generation of writers as she emphasized the importance of women embracing their role as writers and artists rather than just a muse for someone else's talents. Within a mostly male-dominated Beat movement, Hawkins expressed distinctly feminine perspectives and experiences in her published work—blending lyrical prose and keen observations that delved into the intricacies of womanhood, identity, and relationships. She understood the power of language, and carved a space for herself in the Beat canon, helping others to embrace their own narratives and break through the boundaries of artistic expression. 
Photo courtesy of Naropa University Archives
Chögyam Trungpa Rinpoche was the visionary founder of Naropa University. Born in Tibet, he was recognized as a tulku (reincarnated teacher) at a young age and received extensive training in Tibetan monastic traditions. Trungpa settled in the West after fleeing Tibet in 1959 during the Chinese invasion, where he then played a significant role in bringing Tibetan Buddhism to the Western world and adapted the teachings to a modern context to make them broadly accessible. He founded several meditation centers and organizations, was a prolific author on a wide range of topics related to Buddhism, meditation, psychology, and the human condition, and inspired many contemplative Eastern arts to flourish in the West. 
Trungpa envisioned Naropa as a place where students could engage with the discipline of higher education while also cultivating mindfulness and awareness. This innovative model attracted influential figures from various fields, including literature, poetry, psychology, and the arts, further enriching the university's unique atmosphere. Despite his profound influence, Trungpa's life was not without controversy, as he struggled with personal challenges and faced criticism within the Tibetan Buddhist community. Nevertheless, his teachings, writings, and the institutions he founded, continue to impact countless individuals seeking spiritual growth and self-awareness. 
Photo courtesy of Naropa University Archives
Barbara Bash is an accomplished calligrapher and performance artist who arrived to Naropa University's faculty team in its early days. She served as a bridge for contemplative and artistic environments with her unique approach that combined Eastern and Western traditions. She taught students to engage with their creative endeavors in a mindful and meaningful way, and demonstrated the relationship between precision and spontaneity through letterforms and brushstroke practice. 
She often did collaborative and immersive performance pieces that cross-pollinated with other artistic expressions like music and movement during her time at Naropa and beyond. Her presence at the institution helped students explore the deeper connections between art, spirituality, and personal growth, and her contributions to the creative curriculum helped create an atmosphere where individuals could engage artistic practices as powerful tools for self-discovery and transformation.
Allen Ginsberg, Anne Waldman & Gregory Corso
Allen Ginsberg was a groundbreaking poet, writer, central figure of the Beat Generation, and co-founder of the Jack Kerouac School of Disembodied Poetics at Naropa alongside Anne Waldman and Diane diPrima. He was an outspoken advocate for civil rights, anti-war efforts, LGBTQ+ rights, and other social justice causes. His advocacy was often interwoven with his poetry, as he used his platform to address pressing issues of the time. His famous poem "Howl," became a rallying cry for the Beat Generation with its powerful expression of countercultural rebellion, LGBTQ+ sexuality, confronting societal norms, and advocating mental health. He embraced his role as a cultural provocateur and used his platform to influence causes close to him. Particularly, his openness about his own experiences as a gay man was a significant step in breaking down barriers and promoting LGBTQ visibility at the time. As faculty at Naropa he inspired many emerging writers, passing on his belief in the power of individual expression to shape social consciousness. His teachings, collaborations with other writers, and his profound impact on counterculture continue to reverberate in contemporary discussions about art, identity, and social change. 
Anne Waldman is co-founder of the Jack Kerouac School of Disembodied Poetics at Naropa, Distinguished Professor of Poetics, and director of Naropa's Summer Writing Program—and that barely scrapes the surface of her contribution to the University. She is a celebrated poet across generations, activist, feminist, environmentalist, spiritualist, performer, teacher, and living legend. In the founding days of Naropa she was connected to the Beat movement and drew in renowned writers and poets to the University along with Allen Ginsberg, Diane diPrima, and other early faculty. She remains an active member of the Outrider experimental poetry community and continues to produce dynamic written work and lead the helm of the Naropa's writing heritage. She's an author of more than 60 books, and her lectures and performances have been said to be more of transmissions of truth, rather than just your anyday lecture. She has played a crucial role in shaping the institution's identity as a center for innovative and contemplative education, and has impacted and inspired students with her bold, honest, and ever-changing style for more than five decades. 
Gregory Corso was a renowned poet and a key figure in the Beat Generation, a literary movement that explored alternative forms of self-expression, spirituality, and countercultural ideas. His poetry is characterized by its spontaneity, emotional intensity, and direct language as he explored themes of love, alienation, and social rebellion. He taught in the early days of Naropa through the summer writing program and workshops. His dynamic presence as a guest lecturer exposed students to his unique creative style and poetic techniques, helping them engage with the Beat ethos firsthand which embraced unconventional, innovative approaches to writing. Corso, along with other key Beat Poets and founding faculty, helped shape a creative writing environment at Naropa that pushed the boundaries and impacted generations to come. 
Photo courtesy of Naropa University Archives
Barbara Dilley, a luminary of the dance world, has profoundly shaped the trajectory of Naropa University. Born in 1938 near Lake Michigan, her journey in dance began with Audree Estey and Helen Priest Rogers, leading her to Merce Cunningham's company and a transformative era with the Grand Union improvisational ensemble. However, it was her serendipitous encounter with Naropa in 1974 that catalyzed a profound legacy intertwined with the institution.
A creative beacon, Barbara Dilley's relationship with Naropa was multifaceted. As an inaugural faculty member, she inspired students with her curriculum aimed at "synchronizing body and mind," which was inspired by Chogyam Trungpa Rinpoche's teachings. She infused this dynamic philosophy into her teachings, championing the synthesis of meditation and movement. Dilley's journey embraced a multitude of roles, from the architect of the university's dance and movement program to its visionary president from 1985 to 1993. Through her leadership, she magnified Naropa's ethos and pioneered its contemplative educational model, fostering an environment where artistic exploration thrived alongside personal growth. With her legacy extending into the realm of presence and the profound alliance of art and contemplation, Barbara Dilley's influence continues to shape Naropa's path and the broader landscape of dance and education.
Amiri Baraka taught at Naropa's Jack Kerouac School during the late 1970s and early 1980s teaching summer writing programs and workshops. His presence brought a unique perspective to the school's curriculum, emphasizing social justice, political activism, and African American cultural experiences in his teaching. He introduced students to the Black Arts Movement, radical political poetry, and the importance of cultural inclusivity in literature. 
Baraka's unapologetic approach to addressing social and political issues through his written work challenged conventional notions of poetry and storytelling. His presence encouraged students to explore writing that was rooted in activism and cultural critique. Even after his visits to Naropa, Baraka's ideas and works continued to influence discussions and creative endeavors within the university. His legacy contributed to ongoing dialogues about the intersections of literature, activism, and identity and helped shape the dynamic literary environment for which the Jack Kerouac School of Disembodied Poetics is known for.
Photo courtesy of Naropa University Archives
Bataan Faigao, was a beloved Naropa University professor and published poet who directed the Naropa's Traditional Eastern Arts program. Bataan along with his wife, Jane Faigao, were instrumental in founding Traditional Eastern Arts program, and over the course of his thirty-year tenure, he inspired and taught countless students the arts of T'ai-chi Ch'uan as a complete system for health, meditation, self-defense, and as a way of the tao. He died suddenly while taking a pilgrimage to China during his sabbatical from Naropa. While this was shocking for family, friends, and community, his death was also significant in that he died and was cremated at Wu Dang Shan, a sacred mountain village considered the spiritual center of the T'ai-chi Ch'uan. 
Kobun Chino Otogawa Roshi
Kobun Chino Otogawa Roshi was a Japanese Zen Buddhist teacher who made significant contributions to the dissemination of Zen Buddhism in the West. He was known for his teachings on meditation, mindfulness, and the integration of spiritual practice into everyday life. He encouraged individuals to find wisdom and presence in all things.
Through his connection to Naropa's founder, Chögyam Trungpa Rinpoche, he helped contribute to and shape the contemplative curriculum that is the cornerstone of the university. He taught meditation and Zen practice to students and faculty, introducing them to the principles of mindfulness and the experiential aspects of spiritual exploration. Both Chino Roshi and Trungpa Rinpoche shared a vision of integrating Eastern contemplative traditions with Western education, and their combined efforts created an environment where students were encouraged to explore both intellectual inquiry and personal transformation as a holistic approach to learning. His gentle demeanor, combined with his insights into Zen practice and mindfulness, inspired students and faculty to cultivate compassion, awareness, and authenticity in their interactions and endeavors.
Juan Pablo Fernández Garcí
Juan Pablo Fernández Garcí is an international undergraduate student from Mexico, whose artistic passion and spiritual exploration have found a nurturing home at Naropa University. Currently pursuing a degree in Art Therapy, Juan's creative journey has taken him to fascinating places, both externally and within. Here, he paints the captivating mural showcased in the Pamela Krasney Pavillion, a creation commissioned by the Little Lama Café, stands as a testament to Juan's boundless artistic vision.
As he dives into the profound journey of self-exploration, Juan recognizes Naropa as a unique sanctuary that encourages individuals to embrace their true selves, without imposition, and to uncover the depths of their own identities. As Juan asserts, "And I think that from every University in the world, the only one that holds that space is Naropa, and it's the only one that I have found in my life experiences."
Natalie Hsu, a dedicated senior at Naropa University, has found her calling at the intersection of art and education. With a major in art therapy and a minor in elementary education, Natalie's journey at Naropa is a testament to her unwavering commitment to holistic and transformative learning. Her dedication to promoting interdependence and fostering a contemplative, multicultural approach to learning drives her mission to reform the current public educational system.
Natalie's involvement as the Co-Chair of the Student Union of Naropa (SUN) reflects her passion for positive change and her courage in facing challenges head-on. Natalie's unwavering commitment and her desire to balance responsibility with self-compassion define her journey at Naropa, and her vibrant presence and dedication exemplify the heart and spirit of Naropa's transformative community.
Ramon Parish, an esteemed core assistant professor in Naropa's Interdisciplinary Studies department, brings a wealth of interdisciplinary experience to his role. His unique approach encompasses ritual and ceremony as tools for community development, intercultural understanding, ecological awareness, and personal transformation. With a background in developing innovative study programs at Prescott College, Ramon harnesses the power of ritual and ceremony to foster deeper connections between individuals and their environment.
He encapsulates his teaching philosophy eloquently, stating, "People already know many things… Real learning and transformation both take place in that contact, not through the input or memorization of knowledge or information. They come through grounding and body-based awareness – embodied mindfulness – whole-person embodiment." His embodiment-focused approach aligns seamlessly with Naropa's values, fostering genuine connections and self-knowledge among students and educators alike.
Photo by Sofia Drobinskaya
Connor Heikkila, a recent graduate of Naropa University, was fueled by a yearning for genuine learning and a desire to aid others through art. Connor's initial disengagement with conventional education pushed them to seek an alternative, which prompted them to explore unconventional avenues and ultimately guided them to Naropa University. Upon entering Naropa, Connor's proactive spirit quickly manifested through their involvement as an officer in the Student Union of Naropa University (SUN) and their on-campus job.
In this photo, Connor hosts Queer Prom, a SUN-sponsored event celebrating inclusivity, diversity, and self-expression within the Naropa community. This event exemplifies Connor's dedication to fostering an environment where individuals can authentically express themselves and find a sense of belonging. Connor's multifaceted engagement, from leadership in SUN to their role as a Resident Assistant in Snow Lion Residence Hall, showcases their commitment to creating an enriching and supportive experience for their peers.
Regina Smith, a dynamic and spirited educator, stands as a driving force within the Naropa University community. As the Vice President of Mission, Culture, and Inclusive Community, her dedication is steadfastly inspired by poetic vision while firmly grounded in heart-and-body-centered clarity and compassion. Regina's visionary perspective is eloquently captured in her own words, "What excites me about the Division of Mission, Culture and Inclusive Community is that we're doing cutting-edge work that I don't know of that's happening at other universities…" She recognizes that the interconnectedness of people and planet is vital to reshape the world, and Naropa University serves as a crucible for nurturing this interconnected worldview.
In a world driven by commodification and ceaseless growth, Regina and her team help to keep Naropa aligned with its conscience, nurturing the institution's unique identity. Her profound insights and tireless dedication make Regina Smith an instrumental figure, ensuring Naropa remains a beacon of transformation and authenticity in higher education.
Nataraja Kallio stands as a luminary within Naropa University's academic tapestry, having steadfastly served as the lead faculty and Chair of the BA Yoga Studies program since 2005. His profound influence extends beyond the classroom, as he played a pivotal role in designing the innovative MA Yoga Studies program recently launched by the institution. Nataraja's journey has been one of immersion and enlightenment, marked by seven years spent in India delving deep into the contemplative traditions of Vedanta, Tantra, Hatha Yoga, and Buddhism. This immersive experience not only enriched his understanding of yoga but also fostered a remarkable synthesis between academic rigor and embodied practice.
Teaching is Nataraja's canvas for weaving his passion and expertise into the minds of eager learners. His profound connection with yoga—both as an academic subject and a lived experience—shines through in his teaching. Through his unwavering commitment, Nataraja Kallio shapes the future of yoga studies at Naropa University, enriching the lives of students and upholding the institution's sacred mission.
Fern Deininger & Michael Bauer
Photo by Sofia Drobinskaya
Alumnx Fern Deininger stands as a testament to the transformative power of contemplative education. During her time at Naropa, she was deeply engaged in the student community, serving as Co-Chair of the Student Union of Naropa and Manager of Naropa's Bike Shack. 
After graduating in 2019 with a bachelor's degree in Art Therapy, she has excelled in various mission-driven endeavors. Currently serving as the Clinical Program Manager at TARA Mind, Fern applies her passion for healthcare and organizational development to create streamlined processes that enhance client care. Her background in art therapy speaks to her creative spirit, while her role at TARA Mind reflects her commitment to making meaningful contributions in the field of healthcare.
Michael Bauer's transformative tenure as the Director of Sustainability at Naropa University from January 2018 to July 2023 epitomizes his unwavering commitment to creating a more sustainable and just world. His leadership went beyond conventional roles, evolving to encompass the Directorship of the Joanna Macy Center for Resilience and Regeneration. Collaborating alongside students, faculty, and staff, Michael's resolute dedication was a driving force in fulfilling Naropa's mission of achieving climate neutrality and ecological justice.
His extensive background in sustainability program design, impact evaluation, stakeholder engagement, and project management fortified his resolve to create comprehensive and equitable systems. Michael's vision was rooted in the belief that true systems design could only thrive when underpinned by parity and justice.Michael Bauer's legacy at Naropa University serves as a beacon of sustainability, social responsibility, and spiritual growth. His pioneering spirit, transformative leadership, and dedication continue to shape Naropa's path toward a more sustainable and compassionate world.
Paula Gasparini-Santos shines as an exceptional and heart-centered alumnx of Naropa University, leaving an indelible mark on both her personal journey and the communities she touches. Paula's journey is one of multicultural exploration, as she is an immigrant artist born in Vitória, Brazil, who has embraced life across numerous cities and countries. Her artistic expressions, infused with creativity, poetry, and psychological inquiry, manifest as a powerful force for social justice, personal growth, and community unity. As an art therapist, Paula's work extends beyond traditional therapeutic spaces. Whether working with previously incarcerated men or undocumented Latina women, Paula's art serves as a tool for liberation and healing, transcending barriers of race, social economic status, and culture. 
In her journey, Paula Gasparini-Santos exemplifies the transformative power of Naropa's holistic education. Through her creative expressions, she encourages introspection, dialogue, and curiosity, inviting us to delve deeper into the human experience and cultivate a greater sense of interconnectedness.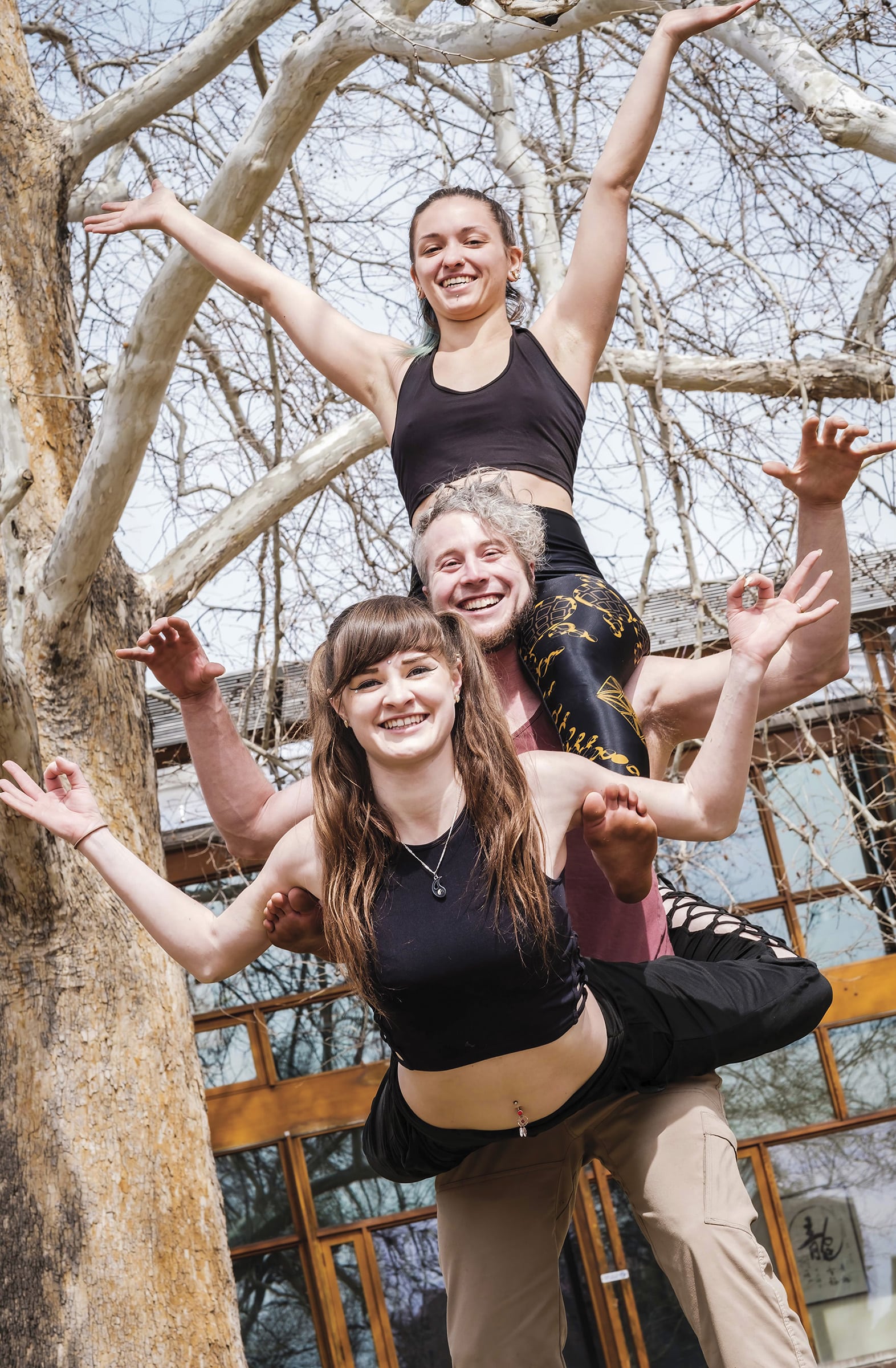 Sedona Moreno-Castelan, Austin Lockey & Evey Healy

Photo by Sofia Drobinskaya
Naropa University alumnx Sedona Moreno-Castelan, Evey Healy, and Austin Lockey, former leaders of Naropa's Acro-Yoga & Circus club, embody the institution's transformative mission through their vibrant endeavors. United by the common thread of mindfulness and connection, these individuals bring their unique backgrounds and passions to the stage, both within Naropa's nurturing community and beyond. Sedona, a Peace Studies, Yoga & Environmental Science major, described herself as a peaceful warrior championing the cause of the sacred earth and the liberation of all beings. Evey, equipped with a Bachelor's degree in Psychology and a profound penchant for improvement, orchestrates innovative shifts both in systems and individual lives. Her role as Assistant Director of Admissions Operations at Naropa speaks volumes of her commitment to unity and innovative leadership. Meanwhile, Austin, delving into the realm of Neuroscience with a Master's pursuit at the University of Amsterdam, spearheads business operations at PsyPhy, a Neuro-Tech Startup at the cutting edge of education and research.
Their collective journey, characterized by dedication and the pursuit of authentic connections, resonates profoundly with Naropa's commitment to fostering unity, transformation, and conscious engagement.