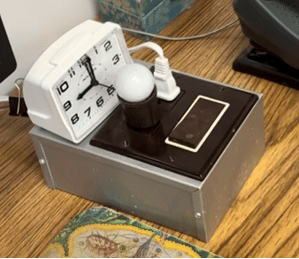 I began working with Roland Griffiths in 1998, at the Behavioral Pharmacology Research Unit (BPRU) located at the Johns Hopkins Bayview Medical Center.  Founded in 1773, the Bayview campus sits on high ground in east Baltimore's Greektown neighborhood.  Once an almshouse and then tuberculosis hospital, Bayview is contemporarily known for specialties in geriatric medicine, burn treatment, and for research in substance use disorders.  
Initially, I worked with Roland's post-doctoral fellows on studies assessing the behavioral and subjective effects of benzodiazepines in human participants.  A job that mostly had me trying to keep people awake so that they could complete computerized tasks, assessments, and questionnaires; the data would later be compiled into spreadsheets and plotted in graphs for review.  Within my first year, I began working directly with Roland on human caffeine discrimination studies.  Depending on the day, we were either putting people to sleep or getting them wired.  Roland meticulously reviewed data and any discrepancy or anomaly set off a full exploratory process to understand the variation.  He would very often pull out a large sheet of graph paper from his desk and begin plotting data points with a mechanical pencil.  His capacity to see the story in the data set and his ability to notice patterns and when they were broken are part of what made him a great scientist. 
 Roland was lanky, well dressed, and walked on a slight tilt.  His work schedule was legendary, he once told me that he worked on average 80 hours a week, and he ferociously guarded his time.  He kept on his desk a small metal box on top of which sat a clock, a light bulb, and an on/off switch.  When he was working, focused intently, the light bulb was on and the clock was running.  When distracted by the phone or by someone entering his office, he would tap the switch, the light bulb would go dim and the clock would stop.  At the end of the day, he could see how many total hours he had spent in concentrated work, an early version of a productivity app long before smart phones.  Like the research data, I am sure that Roland plotted his accumulated hours in pencil on a large sheet of graph paper for later study and self-analysis. 
 Eventually, I got into the habit of working in the office on Saturday mornings while my young family was mostly still asleep.  There was a small group of BPRU employees who worked on Saturdays and of course Roland was among them.  I came to value that time because Roland and other mentors were freer with their time and open to having casual conversations about families, relationships, world matters, hobbies, etc.  Our discussions often revolved around topics like innovation at Apple Inc. post-Steve Jobs (Roland sought my input on purchases twice from the Apple store), diet and intermittent fasting (he followed a consistent daily diet), and optimizing caffeine use for increased work performance. 
 I worked with Roland for over 24 years, we spent many Saturday mornings together, and I miss him.  A lot has been written about him since his illness and death.  He was interviewed by both Oprah and the New York Times.  When asked to write a remembrance for Naropa, I wasn't sure how to offer something unique. Roland could be difficult at times; he could get stuck in his own opinions and argue his point of view relentlessly.  There was often no agreeing to disagree, he had a need for you to see things his way.  But Roland sought out connection with others, greeted people with a smile, and was endlessly curious.  He stoically expressed gratitude for his terminal cancer diagnosis and saw it as a gift of time to be with his family and contemplate the preciousness of life.  So, I am trying to take that lesson to heart, that our time is a precious commodity, that we should be grateful for our time, use it wisely, to do work that we love, and to make meaningful connections with each other.  I have heard that there are plans to have a "build your own Roland clock" event at BPRU and that feels like a wonderful way to honor him while acknowledging the preciousness of the time we share together. 
Joe Harrison is the Executive Director of Naropa Center for Psychedelic Studies. Joe's career has focused on studying organizational leadership and on medications development for the treatment of substance use disorders. Prior to joining Naropa, he worked at Johns Hopkins University's Behavioral Pharmacology Research Unit managing a large research group, conducting clinical trials, creating experiential programs for students, and fostering collaborative private-sector relationships. While at JHU, he was an advisor to the Center for Psychedelic and Consciousness Research and held positions on boards and committees focused on business development, diversity and inclusion, community outreach, and research oversight. He is the co-founder of Peabody Pharmaceuticals, a company whose mission is to minimize the role that prescription pain medications play in the opioid epidemic. He holds a BS in Psychology from Towson University and a MS from Johns Hopkins in Regulatory Science. Joe lives in Baltimore, MD with his family.